Carson Nissan Designated Business Certified Nissan Commercial Vehicle Dealership
A Business Certified Dealership is a Nissan Commercial dealer that specializes in selling and servicing the entire NV lineup: NV® Cargo, NV® Cargo High Roof and NV® Cargo Standard Roof, NV200® Compact Cargo, and NV® Passenger vehicles.
Only Business Certified Dealers offer exclusive commercial incentive packages, while providing dedicated Commercial Vehicle Account Managers and Priority Service.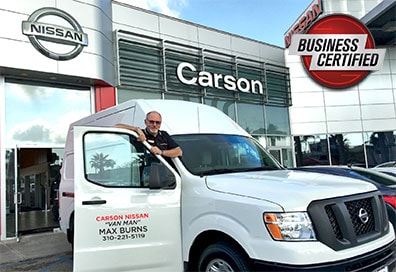 The dedicated Commercial Vehicles Account Manager at Carson Nissan,
Max Burns, "The Van Man,"
provides personalized service, handling commercial customer transactions in the most efficient manner - over the phone, at the dealership or at the customer's location.
For more information and a demonstration of the remarkable Nissan NV® lineup, please contact:
Carson Nissan's "Van Man," Max Burns Tel. 310-221-5119