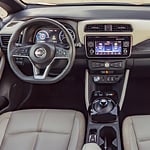 The Nissan LEAF here at Carson Nissan in Carson, CA, is an EV that comes with a plethora of benefits. It's easy to charge, features an efficient electric motor, and has a powerful lithium-ion battery for one remarkable EV. Read on to explore the benefits of owning a LEAF.
The LEAF is a fully-electric vehicle, which means there's no need for gas or oil changes, and less maintenance means that you save time and money. The LEAF doesn't have an internal combustion engine, so you and your occupants can enjoy a quiet cabin. Another advantage of the LEAF is that you may be able to get access to HOV and carpool lanes.
The Nissan LEAF is also beneficial because it can save you money through incentives. Depending on where you live, you may be able to qualify for tax rebates and credits. There are some places that offer tax incentives just for driving an EV.