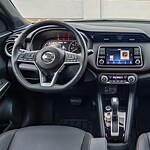 We at Carson Nissan believe that accessories that improve your safety are some of the best investments you can make in your Nissan Kicks. For that reason, we're thrilled to offer a range of options for this all-new subcompact SUV. Each one protects you and your vehicle, so you can drive with peace of mind.
Your airbags are essential to your safety. With the airbag anti-theft bolt, you can keep them secure. This little bolt prevents the theft of your airbags, so they're always there when you need them most.
Whether you're driving alone or carrying kids, a first-aid kit is a perfect way to boost your confidence. The Nissan kit includes a big stock of essential health supplies, so you can treat basic injuries on the go. Buy these accessories and find other safety-focused options by dropping in to chat with our Carson, CA staff.