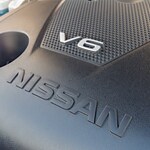 The Nissan Maxima is a luxury sedan that's popular with Carson area drivers. It has a stylish exterior combined with impressive performance to give you a satisfying driving experience.
The engine on the Maxima delivers a generous 300 horsepower and 261 pound-feet of torque. It's a 3.5-liter, VQ V6 that's engineered to deliver fast acceleration off the line. The engine draws its performance from components like sodium-filled exhaust valves and a high-flow tuned induction system.
You can choose either Normal or Sport drive modes in the Maxima. Sport mode tightens the feel of the steering, tunes the transmission, and uses Active Sound Enhancement to bring more of the engine growl into the cabin.